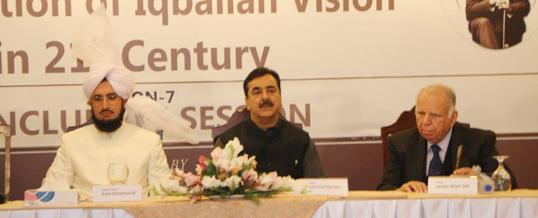 To commemorate Iqbal Day, research-oriented think-tank MUSLIM Institute organized two days conference "Application of Iqbalian Vision in 21st Century" on 6 & 7 November, 2012 at Islamabad Hotel, Islamabad.
Among representatives of all sections of society, the conference was attended by renowned analysts, professors and students of various universities, parliamentarians from the Provincial and National Assemblies, foreign diplomats, members of various research organizations and a large number of journalists and academics.
Sahibzada Sultan Muhammad Ali, founder of the MUSLIM Institute, in his address stated that Iqbal did not belong to any particular age rather he would continue guiding the entire Ummah of the Holy Prophet. Iqbal's ideology of Hurriat became foundation of Pakistan movement.
Former Prime Minister of Pakistan Syed Yousaf Raza Gillani, expressing his views, stated that it was good luck and a matter of pride for the Sub-Continent that Iqbal belonged to this region. In the light of Iqbal's views, I consider Afghanistan as critical for peace in the region.
Chairman PML(N) Raja Zafar ul Haq described the event as 'exemplary" among all intellectual gatherings in connection with Iqbal Day. He urged on the need to study and comprehend Iqbal's views about Ijtihad. He was a blessing for Muslims.
Former Prime Minister Azad Kashmir Sardar Ateeq Ahmed Khan, addressing the conference, stated that people in Germany are still proud of the fact that Iqbal studied there. Iqbal's thoughts are in fact Sufi thoughts, very similar to the thoughts of saints like Hazrat Sultan Bahoo. The same are in fact a message of religious harmony, tolerance, love and affection.
Ex-DG ISI Gen ( R ) Hameed Gul stated that Iqbal's message was of revolution. According to Iqbal, Afghans are a Ghayoor nation and that is the reason they defeated world powers five times. America has also been defeated in Afghanistan and planning to flee. Iqbal's thoughts are immortal as these are in fact derived from the Holy Quran.
Senator Akram Zaki lauded MUSLIM Institute's initiative for promotion of Iqbalian vision. He regretted that our youth was being distracted towards decline due to wrong use of cellular network packages. Only Iqbal's thoughts and inspiration can bring us on the right track.
Chairman MUSLIM Institute Sahibzada Sultan Ahmed Ali said that the MUSLIM Institute is a research organization with the aim to ascertain through analytic research solutions to problems being faced by Pakistan as well as the Muslim world. Shedding light on Iqbal's philosophy, he said that the past two generations claimed that Iqbal was for them only but I think Iqbal is for me, while those coming after me will claim him for themselves.
Former Rector International Islamic University Prof Fateh Muhammad Malik, discussing Iqbal and contemporary Islamic world, opined that Iqbal's thoughts reformed the dynastic system of the Arab world and wave of mass awakening has begun in number of Muslim countries. The youth of these countries is following the philosophy of Iqbal in rejecting monarchial rule for spiritual democracy.
Renowned columnist and analyst Orya Maqbool Jan stated that Iqbal laid foundation of two nation theory in Hindustan. The opponents of two nation theory should know that Allah has also mentioned two groups in the Holy Quran – Allah's group and Satan's group. The same is in fact two nation theory.
Advocate Waleed Iqbal, grandson of Allama Iqbal, said that Iqbal urged youth to adopt love for the Holy Prophet, determination, Faqr and independence while unfortunately opposite values have been adopted by us. Iqbal insisted on discarding fear and submission.
Eminent columnist Rana Abdul Baqi said that Iqbal is among founders of Pakistan. Today our social, economic, defense and religious policies are against the vision of founders of Pakistan.

On the conclusion of the conference, Chairman MUSLIM Institute Sahibzada Sultan Ahmad Ali presented following proposals in the light of views expressed by speakers:-
Iqbal's thoughts and vision should be made part of curriculum at all levels as well as in seminaries.
To promote Iqbal's insistence on Ijtihad, discourse should be held at national and international level. The Muslim states should make necessary legislation as well as evolve economic system in the light of the same.
The importance of Afghan issue should be comprehended in the light of Iqbal's views and the same should be resolved according to aspirations of Afghan people. The Muslim world should rely on unity of the Ummah to get rid of imperialistic influence and control.