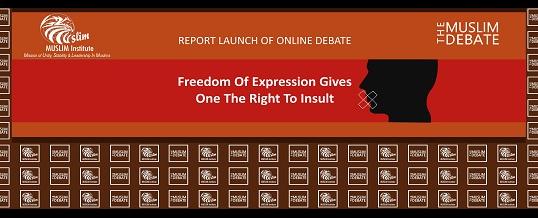 Report launch ceremony of online debate with the motion being "Freedom of Expression Gives One the Right to Insult" was organized by MUSLIM Institute at Islamabad Club, Islamabad on Tuesday, June 16, 2015. Representatives of different think tanks, foreign delegates, scholars, university students and professors, members of parliament, journalists and analysts were present on the occasion of report launch ceremony. Research Associate of MUSLIM Institute Mr. Adnan H. Satti moderated the proceedings of ceremony. Intellectuals, analysts and politicians addressed the ceremony whose brief report is given below.
Opening Remarks
Sahibzada Sultan Ahmad Ali

Chairman, MUSLIM Institute
On behalf of MUSLIM Institute I welcome all the honorable guests. In the online debate the response of debaters, featured guests and participants from all around the world is very encouraging. Right of freedom of expression is necessary for wellbeing and progress of society but only if it is exercised with responsibility. The beliefs, faiths and norms of societies and cultures that have been cherished and celebrated for centuries and even millennia should be regarded with mutual respect and deference; therefore, disgracing or humiliating such beliefs, norms or faith with the consequence of stoking hatred, discord and intolerance between communities should be punishable. This standard should be adopted universally and promoted through globally established laws and qualifications to free expression. In the debate, Dr. Brian Klug explained that any international document, convention, charter or declaration explaining human rights has not included 'right to insult' among human rights. It is also obvious from debate that it is not only demand of eastern values but the intellectuals and standard bearers of western full freedom also do not include right to insult in freedom of expression and therefore, majority agrees that there should be limitations on freedom of expression in order to maintain the unity and close relations among humans. These issues are not confronted by Muslims alone, but unfortunately they have been affected worst due to many blasphemous incidents in the name of right of freedom of expression and western double standards in this regards should be eradicated.

One interesting feature of this debate is that both the debaters, defending and opposing the motion and all the three featured guests don't belong to Pakistan or Asia and also they are not the Muslims by birth. Ms. Lauren Booth is only featured guest who is converted Muslim grown up in the free western environment. All other four participants are standard bearers of western freedoms and are associated with top most credible institutions of UK and USA. Thus from debate, it is obvious that it is not only demand of eastern values not to accept right to insult as part of freedom of expression, the west which raises voice for right to insult, its own intellectuals have decided with difference of 19% to 81% that freedom of expression does not mean right to insult.
Introductory Presentation
Mr. Usama Bin Ashraf

Research Associate, MUSLIM Institute
The Muslim Debate is an online public debate forum of MUSLIM Institute that organizes online debates based on Oxford Debate style formula. It is positioned on the ideology of independent reasoning, rational thinking and the quest for truth to explore the imminent challenges faced by humanity particularly the Muslim community. The purpose of recent debate on freedom of expression was to find out the answers of questions present all around the world on the issue. People from more than seventy countries participated in the debate through their votes and comments and according to 81% votes, freedom of expression does not give one the right to insult. Ms. Hilary Stauffer while defending the motion accepted that the cartoons of Charlie Hebdo were insulting on a personal and visceral level. Whereas Dr. Jameson W. Doig, while opposing the motion, said that these cartoons can be categorized as hate speech and therefore illegal according to Brandenburg (American) and Brian Dickson (Canadian) standards.
Guest of Honour Speech
Engineer Khurram Dastagir Khan

Federal Minister for Commerce and Industry
Muslims across the world have had great difficulties in communicating and arguing with the west. Muslims' point of view is fairly defensible according to many western laws and standards but unfortunately their arguments are often looked as outdated and extreme. That's why the initiative of debate forum by MUSLIM Institute is of great importance. There is long history of debate on freedom of expression in west and even today the lines are not well defined. Therefore, there is room for debate. The limitations on freedom of expression are changing in USA and many western countries. In USA such remarks are prohibited that can spread violence and can cause obvious threats to the country. Muslims all around the world should take forward this debate through forums like The Muslim Debate that they cannot accept blasphemy against Holy Prophet (PBUH).
Special Address
Mr. Ahmer Bilal Soofi

Expert on International Law and Former Federal Minister for Law
I appreciate MUSLIM Institute for the professional exercise that they are conducting and they way in which debate is conducted as it is ensured that the diverse views have been taken on board coming out with legal and rational argument. In the current era such think tanks are needed to do bigger work. Article 18, 19 and 20, in the International Covenant on Civil and Political Right (ICCPR), create, ensure and grant the right of freedom of expression but at the same time these also figure out certain exception zones. For example the articles describe specifically that advocacy of war and such speech that can cause imminent violence is prohibited. Domestic framework can be created which can implement these prohibitions. There is UN Security Council resolution under chapter seven which binds the state that if freedom of expression is being misused and can create incitement, one can stop that.

Similarly the laws of defamation and laws relating to dignity of ordinary human being are well recognized and respected in many countries. When discussion of defamation of religions and religious figures is started, the debate starts that where should be the lines drawn in this regard? The laws on religious defamation are also developed and many organizations including UN have passed resolutions to discourage religious defamation. There should be an international forum, to create a legal framework, one can peruse that forum and file case on religious defamation.
Video Link Address
Professor Dr. Jameson W. Doig

Princeton University, USA
Freedom of expression should not permit hateful expressions and no group or individual should insult others. The Canadian approach is particular which I consider as model in which group and individual dignity is ensured. Sometimes supporters of freedom of speech argue that if we constraint free speech at all, it will undermine democracy but I think Canadian degree of speech is sufficiently great as it can constraint and eliminate severe insult by retaining democracy. I am happy with the debate process as defender and opposition, both were given freedom to argue and also guests and participants from all around the world exchanged the views freely which is appreciable. I will be glad to take part in another debate if it would be on a topic that I know something about.
Video Link Address
Dr. Brian Klug

Oxford University, UK
I congratulate The Muslim Debate and MUSLIM Institute for taking initiative to organize debate on freedom of expression at such a time when most of the people are confused by the complexities of the issue. All of us who took part in debate were given complete freedom to express our views and I am happy to say none of us insulted other. The debate is a model of what freedom of expression should mean and proceeded with the mutual respect and good manner. This is the result of the careful planning on the part of organizers. Humanity is a family and first and foremost thing is respect for one another. Every human right including the right of free speech should be read in this light. Mutual respect is needed today more than ever because the world is shrinking and people from different faiths need to make room for others. When we need to be free to speak our minds, then we must also perform the obligation to listen others and listen their views.
Special Address
Lt. Gen. (R) Amjad Shoaib

Renowned Analyst
Freedom of expression is a blessing and a right which has legal cover but definitely there are certain responsibilities and duties attached to it. There are certain norms of every society and we have commonsense to know the sensitivity of each society and must abide by that. In my early stages of schooling, it was told to never ever ridicule the religious belief of a person because it can draw a very violent reaction. Therefore, freedom of expression is not an unlimited right and there are responsibilities, duties and restrictions which may even not be written. In western societies, there are contradictions as perhaps speaking against holocaust is taken as an offense and one can be punished on that whereas at the same time when one is ridiculing Holy Prophet Muhammad (PBUH), that may be acceptable in the name of freedom of speech. However resorting to violence on such issues cannot be warranted or justified. We have to live with arguments and create awareness among western society regarding it.
Special Address
Mr. S. M. Zafar

Former Federal Minister for Law & Parliamentary Affairs
I have gone through the summary of debate and I must say that the discussion has been very rational, argumentative, scholarly, intellectual and vibrant. It is first of its kind not only in Pakistan but in the Muslim world. The parent of all the human rights is the 'dignity of human being'. Our constitution says that human dignity is inviolable. Respect of humanity has actually given us all the rights including right of free speech. The center of Islamic teachings is also the respect of humanity and because of it we listen others' opinion and regard it. In the online debate while defending the motion, Ms. Hillary Stauffer also accepted that "nowhere in the world is freedom of expression a completely unrestricted right". In many European countries, anti-Semitic comments and speaking against holocaust is punishable. Why cannot we make a law that blasphemy against the Holy Prophet Muhammad (PBUH) will be punishable anywhere? Let the freedom of expression be unlimited but let there be a law against hate speech. In Norway, while filing case on blasphemous acts against Holy Prophet (PBUH), we faced difficulty that there are laws for filing case on defamation of a present individual but there is no law to file case on defamation of a personality belonging to 1400 years ago. Proper penal law on blasphemy should be made because our personality is dependent on our love with Holy Prophet (PBUH) and this love is our shelter. When this message will be conveyed to the other side with dialogue in proper rational way, there would be definite results. Freedom of expression is not an unlimited right but it ends when it interferes with others' freedom. One person said I have full right of swinging the stick but the other one replied,"You can move your stick as you like but if it touch my nose, I am going to take away the stick". One has every right to speak provided speaking rationally and not insulting others.
Chief Guest Remarks
Mr. Pervez Rashid

Federal Minister for Information, Broadcasting, Human Rights and Law
Freedom of expression is a necessary and unavoidable right needed for evolution of any society. Faith and customs of societies should be respected as they are its foundation. Such expressions that humiliate the beliefs and norms and hurt a society should be discouraged. When our freedom starts hurting others, it is there we have to be conscious and need to put the limitations. If insulting and hate speeches are not discouraged, we will soon lose dignity and mutual respect from society which is one of most important factors distinguishing us from other creatures. Every society has its own standards and therefore laws should be made, to restrict hateful and insulting expression, based on international standards. To prevent possible misuse of any restriction on freedom of expression resulting in curtail of free speech, we need to find some universal standards and being human we are intelligent enough to do so.
Presidential Address
Raja Zafar-ul-Haq

Leader of the House, Senate of Pakistan
Muslims by and large are accused of talking to themselves and that they have no mechanism to express their views to the rest of the world. MUSLIM Institute has created history by organizing programs in this regard where international community is also engaged. This work by MUSLIM Institute is actually a great Jihad. The creation of forums, laws and conventions play definitely an important role but these have not gone far enough in past only because we can create a skeleton and framework through these but real training of human beings is done by individuals. Voting statistics of debate describe that the human beings all around the world are realizing that hateful expressions should be restricted and percentile of those who don't support unlimited expression of thoughts and insult of others, is increasing. Hadrat Umar Farooq (RA) once stood before Qibla and said that it is most respectable place but the respect of human being is more dignified than this also. Insulting an individual and negating its dignity is the real crime in Islam.
Vote of Thanks
Sahibzada Sultan Ahmad Ali

Chairman, MUSLIM Institute
I would like to thank all distinguished guests for participating in today's ceremony. I am quite hopeful that the report of online debate on freedom of expression would be helpful for researchers, policymakers and thinkers. I thank Allah Almighty Who gave us idea and ability to do all this. I will end with these verses of Holy Quran:

"And when he saw it placed before him, he said, "this is from the favor of my Lord to test me whether I will be grateful or ungrateful. And whoever is grateful- his gratitude only for (the benefit of) himself. And whoever is ungrateful- then indeed; my Lord is free of need and Generous" (27:40)